We Make Math Easy With A Proven Math Tutor Near You In San Jose
Master subjects with the aid of academic tutoring from our experts. Build the logic and skills to excel in all aspects of schooling.
Academic Math tutor Near You
bay area Math tutors
MathTowne offers one-on-one in-person and online math tutoring for students of all ages. We are based in the San Jose Bay Area. Whether for academic schoolwork, test prep, or vocational certification, we can help. We provide you with a vetted and professional private tutor to make math become your strong point.
math tutor san jose
Our math tutors in San Jose, CA can meet based on your convenience. Our San Jose math and science tutors near you can meet in-person in the comfort of your own home while our online math tutors offer the convenience of tutoring sessions through a tablet or computer.
In-home & online math tutor near you
Elementary school math Tutoring
Elementary math students will begin to explore mathematics through a variety of activities. Many students will find math more challenging than others and that is where we come in. Our in-person and online math tutors provide personalized lessons that suit each student's skill level and learning outcomes.
Our program provides students with the fundamental skills they need in order to succeed during their elementary years. Our tutors provide fun and engaging activities that will keep our students interested and excited to learn.
Middle School math tutoring
Middle school students will start to explore more complicated math topics in preparation for high school. Our in-person and online math tutors will help students improve their math skills and become confident in their problem-solving skills.
Our middle school in-person and online math tutor program is built to empower students in understanding math objectives. Our activity planner is created for students to be organized and work independently solving real-world problems using mathematical concepts.
high school math tutoring
High school students have a lot on their plates. Not only is this an important time in their social and academic transition, but expectations for scholastic performance are also higher. Math is especially important and particularly challenging for students. Many students struggle with the complexities of the many math classes required.
Our high school in-person and online math tutors have years of experience. Our goal is to teach math in a way that takes the stress out of learning math. We strive to make each math lesson as engaging as it is productive.
It is not uncommon for people to return to school at an older age. The reason varies from person to person. Some want to advance their education, while others are looking to finish some credentialing programs in health and computer science fields. Others are simply looking to increase their job opportunities.
Whatever the reason, returning to school can be a daunting task for many adults.
One subject area that can be particularly difficult for many people is math. Adult students can be out of practice or are simply not exposed to certain areas of math. Even worse, finding an in-person or online math tutor as an adult can sometimes prove to be the biggest challenge of all.
At Mathtowne, we understand that as adults, students are often balancing part-time or full-time work with academic endeavors. Our in-person and online math tutors are prepared to help each student achieve their goals in a considerate and thorough manner. If you are in the market for an in-person or online math tutor, our team is ready to work with you!
Middle School Math tutoring
Algebra
Students will develop an understanding of different uses of variables, and explore the relationship between expressions and graphs with a deep understanding of intercepts and slopes.
Geometry
Students will develop an understanding of two-and three-dimensional geometric shapes and solve geometric problems with the introduction of the Pythagorean theorem.
Number & Operations
Students will venture into learning the use of ratios represented in quantitative relationships and develop an understanding of exponentials, and scientific and notational calculations.
Measurements
Students will learn the measurable equations of objects and units. Students will review the techniques, tools, and formulas to calculate measurements.
Data Analysis & Probability
Students will learn to collect and analyze data through statistical methods as well as understand the basic concepts of probability.
High School Math tutoring
Integrated Math
This course is a unique approach to math learning. Integrated Math is divided into IM1, IM2, and IM3.
Each class covers topics from other math courses (Algebra 1 & 2, Pre-Calculus, Calculus, and Trigonometry). However, the complexity and depth of the topics increase as students advance in the courses.
Trigonometry
This course is a course focused specifically on the functions of angles. Most schools choose to include this curriculum in PreCalc, but some schools offer the course separately.
There are six commonly used functions of an angle that are covered in the course. These are cosine, sine, tangent, cotangent, secant, and cosecant.
Statistics
This course is quite a bit removed from the other math courses. It focuses on probability theory.
Students are taught to apply mathematics to collected, summarized data. There are various analytics covered. These include mathematical analysis, linear algebra, differential equations, and more.
Precalculus
Most students who are not in an accelerated math course can choose this course as an elective in 12th grade. This course incorporates concepts from earlier classes and trigonometry. Students will learn functions & graphs; polynomial, rational, exponential, and logarithmic functions; probability & statistics; and many other topics.
I went there for math, computer coding, and science tutoring and it helped! I got a good grade on my tests and understood the concept of what we were studying.
– Naya
I need help with my math class
< 1 min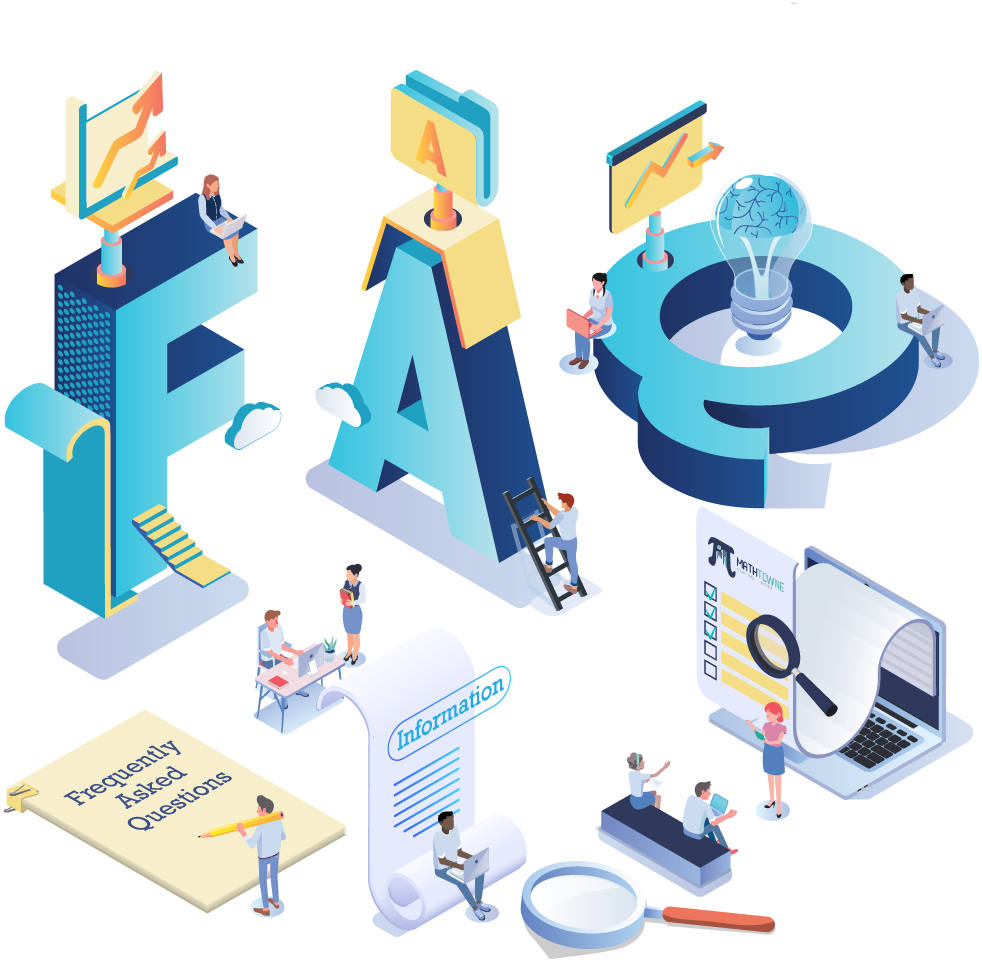 Frequently Asked Questions
How does common core math differ from regular math?
Common Core math is based on creating solutions for real-life situations, whereas traditional math uses equations and calculations to solve a problem. Common Core math students should have a concrete understanding of the concepts involved in solving math problems.
Traditional math students can use tables and equations in order to solve a problem. Traditional math looks for a straightforward answer, whereas Common Core math students must have a deeper understanding of the given concept and give a detailed answer.
Which websites can I use to improve my math skills?
There are a variety of useful resources you can use to help with any math problem such as,
For students k-12 the following websites are a great resource to use outside school,
Funbrain, Mathblaster,  Hoodamath.
If self-study resources are insufficient, finding help from an in-person or online math tutor near you may help.
What is the US middle to high school math curriculum?
States set their own mathematical curriculum, usually by each local school district. The mathematical standards are given by topic. Middle school students start with Pre-Algebra and Algebra I. Once in high school, they are introduced to Geometry and Algebra II. For students who want to continue with math after 11th grade, they have the option of continuing math as an elective. For these students, they may take Pre-Calculus in 12th grade. For advanced high school students Calculus AB and Calculus BC are taken for college credits (if they complete AP Tests).
If an accelerated program interests you, find a math tutor near you to help you get ahead.