SAT Math Prep That Is Proven To Work – Hire an SAT Math Tutor Near You
We provide the highest-rated tutoring services to middle school and high school students in the San Jose Bay Area.
Are you Looking For Effective sat Math Prep?
If you find that you are struggling on the SAT Math section, you are not alone. Many students around the nation have a similar problem.
The ideal minimum composite score on the SAT is 1200, so many share the struggle of breaking through to the 600 range in the Math section. This is especially true if Reading and Writing are not your strong suit.
In 2022, only 4% of students who took the SAT scored a 1450 or higher. A 'good' average to aim for math is 600 out of the perfect 800. Scoring a 600 in the math section would put you right about the 75th percentile. For the class of 2022, the average score for the math section was 521.
Finding a good SAT math tutor near you and starting your SAT math prep early can be the solution for you.
How An SAT Math Tutor Near You Will boost your SAT Score
Looking for an SAT math tutor near you? MathTowne offers one-on-one SAT Math Prep in San Jose, CA and the surrounding Bay Area. We provide you with a vetted and professional private SAT math tutor to make SAT math practice simple and fun. We guarantee our instructors have years of experience in all sections of the SAT.
Private SAT Math Tutor Online & In-Person
Our private SAT math tutors can meet in person in the comfort of your own home, or online remotely through a tablet or computer. We make it easy for you to find an SAT math tutor who fits you. Our team utilizes our SAT math prep course with detailed SAT math practices to work with students and help them prepare for the test.
Our SAT tutors ensure improvement in student performance. We provide an in-depth breakdown of all SAT math practice tests to ensure improvement in the English and Math sections. Our SAT tutors explain the SAT math practice material and help students learn how to study subject matters effectively.
How our customized SAT Math Prep creates results
Expert sat Math tutors
Our SAT tutors have years of experience helping students to succeed on their SAT exams. Every session is customized and targeted towards each student's unique needs.
We provide you with two specialists – an SAT math tutor and an SAT Reading and Writing tutor. This ensures our tutors can truly provide detailed instruction and in-depth help for each subject.
SAT MAth Practice Tests
Every student will improve their SAT score by building their test stamina. We provide our students with regular full-length practice tests that help them build their stamina and confidence for the real thing.
Our tutors then use detailed analyses of each test in order to provide feedback, targeted instruction, and guidance.
STRATEGIES AND INCREASED SCORES
To further enhance the SAT course, we also teach time management, study skills, and test-taking strategies. These fundamental skills enable students to better overcome the challenges of the SATs and greatly improve their scores.
measurable results
We work with you and your family to set realistic and achievable goals from the start. We tailor our program to meet your individual needs and make sure all expectations are clear and understood. This allows us to guarantee measurable results.
We provide you with a detailed analysis and breakdown of each practice test, regular progress updates, and a results-oriented plan for continuous improvement.
I worked with Anh and her team to prepare me for my SAT as well as my high school courses. She and her team allowed me to perform great in all sections of the test. Would recommend them to anyone looking to raise test scores and gain more knowledge on a topic.
– Yazan
How our SAT Math Prep Program works
Schedule your full-length diagnostic test
This takes a minute and is free with no obligation to sign up
Take the diagnostic test on your own schedule
We recommend taking the test in one sitting and starting it at the same time of day that the real SAT would be taken around 8:30 am – 9:00 am
Free consultation to review the results
We provide you with a detailed result analysis, score breakdown and discuss any questions you may have.
Fully customized Program
Based on the diagnostic results, your target score, timeline, and availability, we provide you with a fully personalized SAT test prep package proposal.
MathTowne Test Prep Portal
Once you choose the package options and sign up, we provide you with log-in credentials to our SAT portal. The portal includes over 2,000 practice questions with video solutions
Flexible scheduling
We provide you with a complete schedule and program plan that covers lesson 1 all the way to the day of the SAT test. Along the way, we are flexible and able to accommodate scheduling changes as well as increased or decreased need for tutoring based on the progress being made.
Adaptive Instruction
One-on-one lessons, assignments, custom quizzes, and areas of focus are adjusted session by session.
Regular full-length practice tests
Throughout the program, we administer full-length practice tests. This ensures students are building their test stamina and provides a measurable output to track progress. The detailed analysis of each test further guides our tutors on exactly what areas to focus their instruction on.
WHAT IS MY SAT MATH SCORE?
< 1 min
When is a good time to take the SAT?
Most students take the SAT in Junior year.
The College Board assumes that most juniors will, by the time they are taking the test, either be taking or have gone through Algebra II. Even if a Junior is currently taking the class, the Algebra II concepts the test covers are basic. Most students will have covered them in Algebra I or at the start of Algebra II.
Every student's academic journey is different
Stronger math students oftentimes take Algebra I as early as 8th grade and by junior year have already started Pre-Calculus. On the other hand, students who do not have a strong a foundation in math take Algebra I in high school and are then only starting Algebra II in junior year. At the end of the day, it is a matter of confidence and ability.
Questions are grouped by concept
Students should be aware that the College Board does not divide questions in accordance with the classes they are taught in. Questions are grouped together by concepts.
Do not put off taking the SAT
Regardless of where a student is at in their academic journey, do not put off taking the SAT simply because you have not completed Algebra II. It is more important to have made an attempt at the SAT earlier rather than later. Students should not prioritize completing a course over taking the exam.
is a good SAT Math Score important?
Good Composite score
Increasing your Math score is a great way to reach your SAT score goal. Scoring well on the SAT Math section has the added benefit of reducing the pressure on the Reading and Writing portion.
Remember, the composite score is a combination of the Math Section and the Reading & Writing section, so increasing the math takes half of the score up. The higher the composite score, the greater chance the student has of pleasing the college admission.
College Admissions
Another thing to keep in mind is that certain schools (i.e. Harvard, MIT, Carnegie Mellon, and Princeton) are extra selective. These more technical schools will usually only admit the best of the best, especially if you plan to major in Math, Physics, or other Science and quantitative adjacent courses.
One way the college's admissions determine qualified applicants is based on your Math section scores. Students aiming for these schools or similar schools should take extra care with their SAT math prep.
Understanding The SAT math Sections
Math (No Calculator) Section
Questions: 20 multiple-choice & free-response
Time: 25 minutes
The math section tests a student's knowledge of Algebra, Geometry, and elementary Trigonometry without a calculator.
No point deductions for incorrect answers
Math (Calculator) Section
Questions: 38 multiple choice & free response
Time: 55 minutes
This section tests a student's knowledge of Algebra, Geometry, and elementary Trigonometry, with a calculator
No point deductions for incorrect answers.
What math topics are on the SAT Math Test?
Problem solving and Data Analysis
Rates, ratios, & proportions
Unit Conversions
Percentages
Sample vs population
Applying a model
Mean, median, mode & range
Interpreting data tables
Probability
Line of best fit/scatter plot
Interpreting graphs & charts
Heart of Algebra
Solving linear equations in one variable
Translating words to algebra: creating linear equations & expressions
Manipulating linear equations & expressions
Solving linear systems
Graphs of linear functions
Linear inequalities
Interpreting linear equations and expressions
Solving for an expression
Linear functions in two variables
Passport to Advanced Math
Graphs and other nonlinear functions
Interpreting nonlinear equations and expressions
Solving equations with exponents or roots
Solving quadratic equations
Function notation
Manipulating expressions with exponents & roots
Solving systems of nonlinear equations
Manipulating polynomial expressions
Solving rational equations
Additional Topics in Math
Angles, Triangles, Quadrilaterals
Area & Volume
Circles
Picking your own number
Translating words to math
Solving backwards
Fractions
Estimate/Guess & Check
Integer Operations
How to get 800 on SAT MATH?
Are you confident in your content knowledge, but are finding yourself hitting a wall with your SAT Math score? Are you doing well, but find yourself unable to break the 600-750 score range? If you want to raise your score to the perfect 800, it is not impossible!
It should come as no surprise that scoring 800 on the SAT Math section is no easy feat. That is not to say it is out of your reach. With some extra help, MathTowne can definitely get you to perfection, or at the very least, very close to it.
Get help from an SAT Math tutor or mentor
Tutored students often outperform students who have only used reference books or studied on their own. Some experienced guidance may be all you need to push you over the edge.
More often than not, it is not even a case of subject mastery, but understanding the test itself. Be sure to look into test taking strategies or discuss them with your tutors to increase your performance.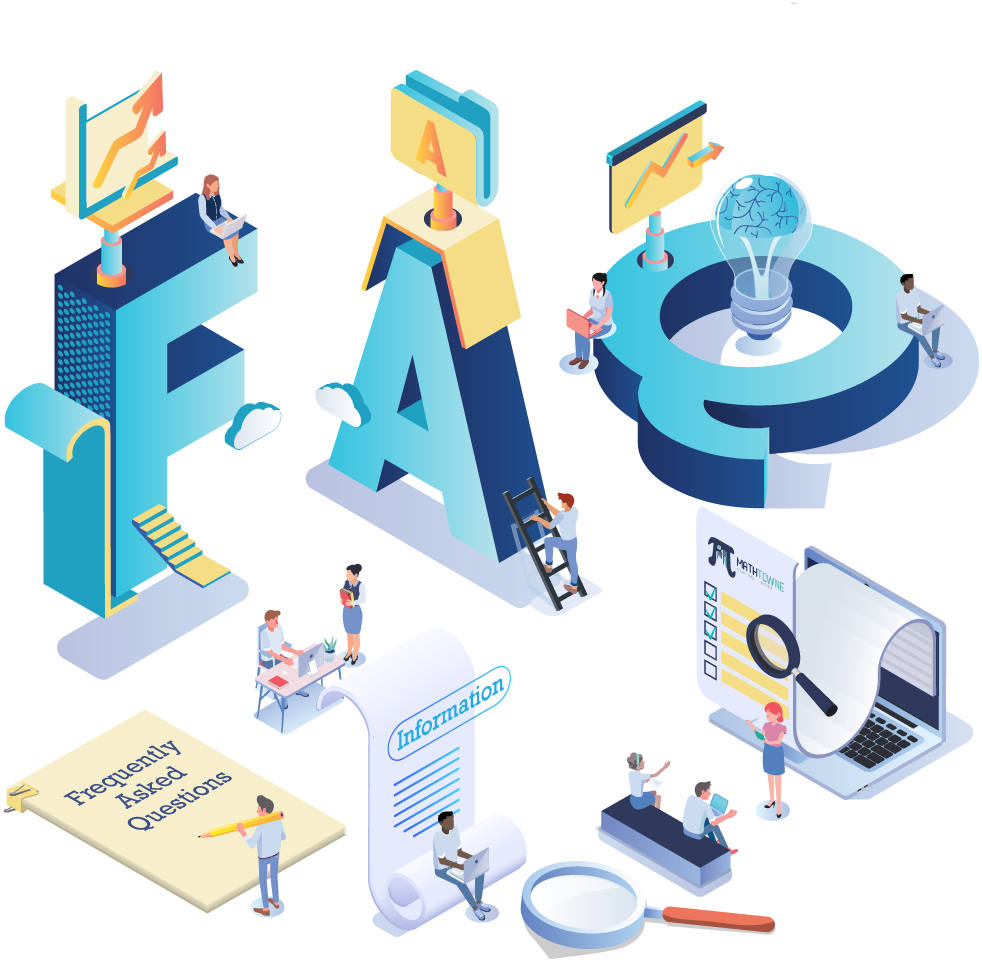 Frequently Asked Questions
Do I need a graphing calculator for SAT math?
While it is perfectly fine to use a scientific calculator or any other that you prefer, it is our recommendation that you use a graphing calculator on the SAT and ACT. There are numerous benefits to using a graphing calculator.
Being able to see the graph as you plug it in is a great help during the test. Most graphing calculators such as TI-83, TI-84 can solve quadratic equations, polynomials, and systems of equations. Learning to use your graphing calculator will help boost both your speed and accuracy.
Can I take only the math portion of the SAT?
No, choosing to take only one section of the SAT is not an option. However, something to keep in mind is that some schools do take the 'superscore' into consideration. This is the composite of your best scores from all the SAT you've taken.
For example, if in 2021, you score a 600 on math and a 750 on reading/writing, but in 2022 you scored 750 in math and a 700 in reading/writing, your super score is 1500. This means there is an added benefit to taking the test more than once. So while you can't take a section by itself, you can definitely take the entire test more than once to try and improve a particular section.
What's the SAT math section average score?
The average score of any section ranges from year to year. A 'good' average to aim for math is 600 out of the perfect 800. Scoring a 600 in the math section would put you right about the 75th percentile which is perfectly fine and should allow admission to a majority of universities around the nation. For the class of 2022, the average score for the math section was 521.
How do I improve my speed on the SAT math portion?
To improve speed, make sure you know and understand the concepts first. Try the test without any time constraints to give yourself a better idea about which concepts you know and which you still need to review. Without the time constraints, you can be sure that the concept questions missed are due to lack of knowledge rather than lack of time.
Once you are relatively confident in your concept knowledge, you could start introducing timed tests into your practices.
The worst thing you can do is to overthink and waste time. Maintaining speed is important, so just bubble and move on. Mark the questions you would like to review. If you have extra time at the end, you can return to the marked questions.
Other test-taking techniques such as back-solving, elimination, or utilizing a graphing calculator to your advantage can also boost your time significantly.