Read & Write Confidently With An Academic English Tutor in the Bay Area
Master subjects with the aid of academic tutoring from our experts. Build the logic and skills to excel in all aspects of schooling.
Academic English tutor Bay Area
San Jose English tutor
MathTowne offers one-on-one in-person and online academic English tutor for students of all ages. We are based in the San Jose Bay Area. Whether for academic schoolwork, test preparation, or vocational certification, we can help. We provide you with a vetted and professional private tutor to make English become your child's strong point.
English tutor near you Or Online
Our San Jose English tutors near you can meet in-person in the comfort of your own home. We can also remotely conduct sessions through a tablet or computer.
PRIVATE San Jose English TUTOR For Middle and High School
Middle School English Language Arts
Middle school English lessons will help students to demonstrate their English language conventions and writing. Middle school English students are exposed to a variety of ideas that will introduce them to interpret skills from diverse formats.
Our personalized plans will encourage students to master reading and writing skills. Additionally, students will explore the main points of the English language through the study of vocabulary and grammar. Our academic English tutors are experienced with working with the Middle School curriculum.
High school English language arts
High school students focus on critical reading and writing skills. Many students struggle with the increased expectations of the high school curriculum. At this higher level of English academics, students will need to prepare and write essays at a higher level. Reading will also require a more in-depth understanding of the work. Also, students will need to be able to conduct research as well as increase their ability to edit their own work.
With the ever-increasing academic competition in the San Francisco Bay Area, CA, many students are in need of extra help. In this case, students may benefit from English tutoring. Academic English Tutors can help with building successful habits and study skills.
Our team of academic English tutors in San Jose, Santa Clara, Mountain View, and more, are ready to help you. We believe you can build and gain success from your experience tutoring sessions with us.
Our program is designed to help all grade levels become successful in listening, speaking literature, research and composition. Our goal is to provide students with the best educational tools to guide them.
We offer academic English tutor for the following subjects:
PRIVATE Academic English TUTOR For Adults
Adult English
English as a second language is a subject that helps non-native speakers of all ages learn English. Our tutoring program is created to help students that are not yet proficient in English.
We can help students develop their skills in order to achieve their educational and life-learning goals. Our tutors follow best practices for our ESL students to ensure that the learning experience is interactive and engaging.
College English
College English prepares students with the tools they need to communicate effectively and develop critical-thinking skills. College English is expected to explore grammar, literature, and writing at a higher academic level.
Our experienced academic English tutors will create personalized programs that fit your educational needs with a long-term takeaway result.
General Educational Development (GED)
The GED is a secondary program available for students seeking to complete their high school diplomas. Many people wish to increase their job opportunities or seek higher education. The GED is the first step toward achieving these goals.
A GED will show employers and other institutions that you have the equivalent of 12 years of schooling. even if you did not complete traditional high school. This means the test will prove your proficiency in all areas of traditional academics, particularly English.
The GED exam language arts portion is divided into two sections: writing and reading. Our goal is to help you improve your writing and reading skills by creating a comprehensive study plan to fit your educational needs.
ESL Program
Many adults seeking academic and vocational opportunities will be required to show English Language Proficiency. Our English teachers are experienced with working with students learning English as a second language. We are ready to help you gain confidence, fluency, and mastery of English in accordance with established guidelines.
The general criteria for evaluation are as follows:
Listening – Understanding conversation, descriptions, and narrations (both factual and technical content)
Speaking – Participate in conversations (face-to-face and not in person), display creativity and spontaneity in language patterns, and clarify for understanding
Reading – Interpret authentic and edited materials (i.e. published), make inferences based on text, react personally to reading materials
Writing – Expand and combine varied clauses, write narrative/descriptive paragraphs, punctuate and write paragraphs, note-taking, utilize transition phrases
Academic Skills and Topics Covered
English is an important area of evaluation for adult students seeking to expand their education or return to school. Placement tests, certifications, as well as many other aspects of education, will require skills in English. MathTowne's academic tutors have extensive experience working with college students and returning adult students alike.
Areas of English support covered in our courses are as follows:
Reading
Main idea & Theme
Purpose & Tone
Text Structure
Literary Devices
Analyzing Literature & Informational Texts
Comparing Texts, Visual Elements
Writing
Organizations
Developing & Supporting Arguments
Persuasive Strategies
Creative Techniques
Editing & Revising
Research Skills
Vocabulary
Prefix/Suffix
Greek & Latin Roots
Synonym/Antonym
Homophones
Context Clues
Domain-Specific Vocab
Reference skills
Grammar
Sentence structure
Phrases & Clauses
Verb Agreement
Parts of Speech
Modifiers
Punctuation
How MathTowne's Tutoring Program works
Quality Academic Supplement
We utilize subject-oriented lessons to ensure improvement in student performance in all aspects of their academics. We provide an in-depth breakdown of all subjects, tailored to the curriculum of their school.
Organization & Effective Study Habits
Our tutors help students to form productive habits including time management, study skills, and perseverance. These skills will enable them to better overcome the challenges of achieving academic excellence.
Active Learning
Our staff is motivated to support students to handle the rigorous demands of education by helping them be proactive in their learning process. By facilitating active participation in sessions and developing methods for retention and recall, students will learn the subject matter in a more effective way.
Guidance & Mentorship
Our team works in collaboration with school counselors and teachers to provide a comprehensive approach to facilitating academic and personal growth. We help students track their progress and make informed decisions.
Progress Tracking
Our team provides progress updates on a regular basis to both parents and school representatives to ensure collaboration and transparency. Easily review the progress reports, and effortlessly schedule a consultation if questions arise.
Grade Improvement & Mastery
Our team is dedicated to providing the necessary support for students to succeed in their academic goals. The MathTowne Academic Approach gives students the confidence and tools necessary to excel in their scholastic endeavors.
I need help with my language skills
< 1 min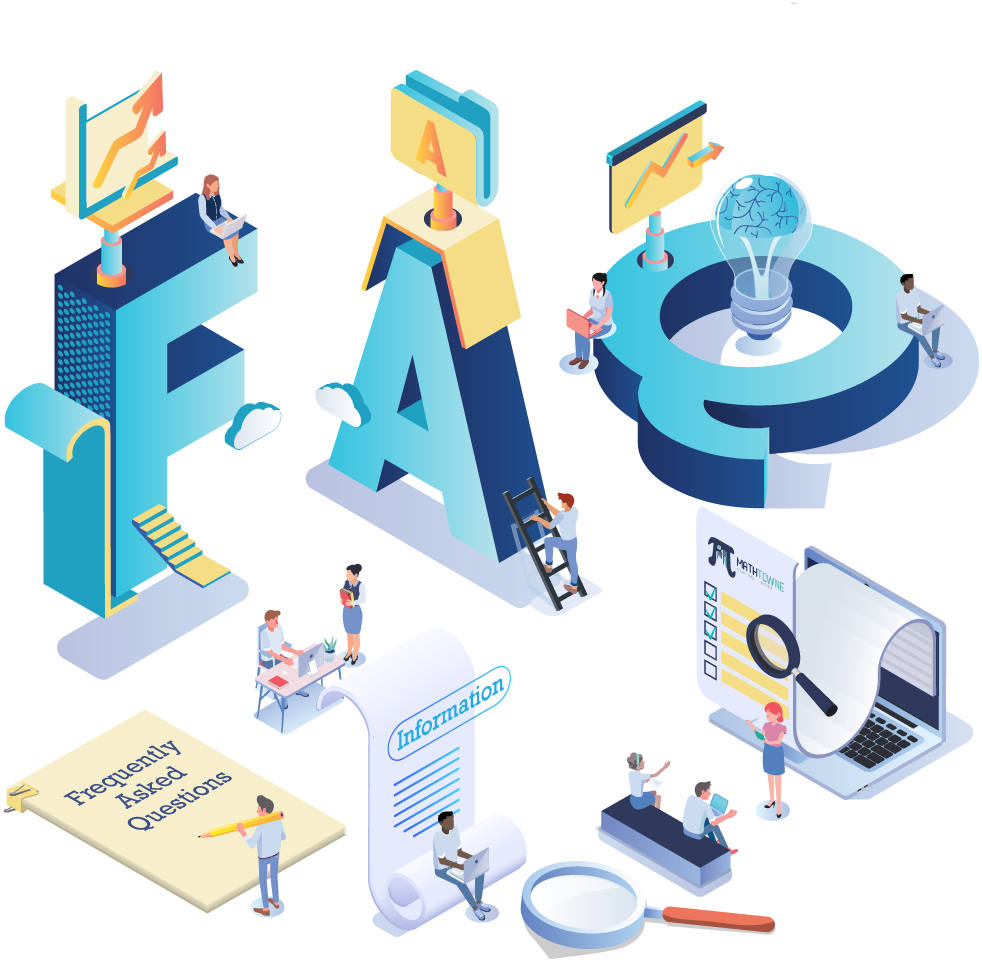 Frequently Asked Questions
Which English books do Americans study in High School?
The answer varies quite a bit between schools. Each high school creates its own curriculum, so the reading list depends not only on the school but also on the teacher. So long as the reading is sufficient for students to build a comprehensive literary repertoire, it is a good start. For a more specific reading list, here is a link with more information: https://open.umn.edu/opentextbooks/textbooks/206
Where can you study ESL in the USA?
ESL can be studied in any location that offers such programs. Most public schools offer programs that help students learn English. In many cases, there are also many government-subsidized programs for students to study English.
This is useful for those struggling with educational funds for their language progress. For more information, it is recommended that you visit your city or county office. Or visit the following website for information on ESL education advisors.
Lastly, a private academic English tutor can provide a more personalized approach to study.
What are some books to develop English writing skills?
There are many great books for students to develop their writing skills. You are a writer by Jeff Goins is a good source. Stein on Writing by Sol Stein is another good choice as well as The Sense of Style: The Thinking Person's Guide to Writing in the 21st Century by Steven Pinker.
How to pass the ASVAB if English is my second language?
You can pass the ASVAB even though English is not your primary language as long as you understand the main concepts. There are many online resources that provide essential information and strategies to pass the ASVAB.
If necessary, finding an academic English tutor near you may be a good route to take for extra help.